*This post may contain Affiliate Links
I love lists! I'm a shocker for always having a list written down, whether it be a to-do list, shopping list, wish lists, Christmas lists... you name it. One of my favourite however, are the books that I want and need! So without further ado, here are the seven books I can't wait to read, but aren't out yet ... (Here in Australia )
1. Zenith by Sasha Alsberg and Lindsay Cummings
Release Date: 24th July 2017
There is darkness sweeping across the stars. Most know Androma Racella as the Bloody Baroness: a powerful mercenary whose reign of terror stretches across the Mirabel Galaxy. To those aboard her fearsome glass starship the Maurader, she's just Andi, their captain and protector.When a routine mission goes awry, the all-girl crew's resilience is tested as they find themselves in a most unfamiliar place: at the mercy of a powerful bounty hunter connected to Andi's past and a harrowing betrayal.
2. How to Disappeaer by Sharon Huss Roat
Release Date: 21st August 2017
Synopsis:
From the author of Between the Notes comes a story that shines a light on our love of social media and how sometimes being the person you think you want to be isn't as great as being the person you truly are. Perfect for fans of Vivi Greene's Sing and Susane Colasanti's Now and Forever.
Vicky Decker's social anxiety has helped her to master the art of hiding in plain sight, appearing only to her best friend, Jenna. But when Jenna moves away, Vicky's isolation becomes unbearable. So she decides to invent a social life by Photoshopping herself into other people's photos and posting them on Instagram under the screen name Vicurious.
Instantly, she begins to get followers, and soon, Vicky has made a whole new life for herself without ever leaving her bedroom. But the more followers she amasses online, the clearer it becomes that there are a lot of people out there who feel like her-#alone and #ignored in real life. To help them, and herself, she must stop living vicariously and start bringing the magic of Vicurious back to life.
Add to Goodreads
//
Preorder at Book Depository
//
Preorder at Booktopia
3. The Secret History of Us by Jessi Kirby
Release Date: 1st August 2017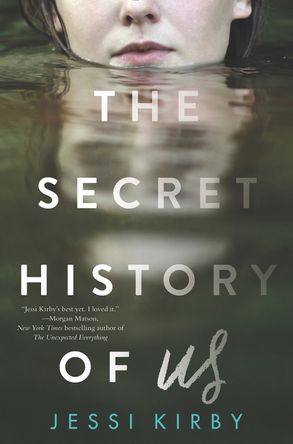 Synopsis:
"Jessi Kirby's books just keep getting better and better, and The Secret History of Us is her best yet. It beautifully touches on all the most important things in life-love, family, friendship, memory, and bacon. I loved it."-Morgan Matson, New York Times bestselling author of The Unexpected Everything
In this gorgeously written, emotional novel that fans of Sarah Dessen will enjoy, a teenage girl must piece together the parts of her life she doesn't remember after a severe collision leaves her with no memory of the past four years.
When Olivia awakes in a hospital bed following a near-fatal car accident, she can't remember how she got there. She figures it's because she was in a coma for a week, but as time goes on, she realizes she's lost more than just the last week of her life-she's lost all memory of events that happened years ago. Gone is any recollection of starting or graduating high school; the prom; or her steady boyfriend Matt. Trying to figure out who she is feels impossible when everyone keeps telling her who she was.
As Liv tries to sort out her family and friends' perceptions of her, the one person she hasn't heard enough from is Walker, the guy who saved her the night her car was knocked off that bridge into the bay below. Walker is the hardened boy who's been keeping his distance and the one person that has made Liv feel like her old self...whoever that is. With feelings growing for Walker, tensions rising with Matt, and secrets she can't help but feel are being kept from her, Olivia must find her place in a life she doesn't remember living.
Add to Goodreads
//
Preorder at Book Depository
//
Preorder at Booktopia
4. All the Things that Could Go Wrong by Stewart Foster
Release Date: 29th June 2017
Synopsis:
There are two sides to every story
Dan is angry. Nothing has been the same since his big brother left, and he's taking it out on the
nearest and weakest target: Alex.
Alex is struggling. His severe OCD makes it hard for him to leave the house, especially when Dan
and his gang are waiting for him at school . . .
Then the boys' mums arrange for them to meet up and finish building the raft that Dan started with his brother. Two enemies stuck together for the whole of the school holidays – what could possibly go wrong?
Add to Goodreads
//
Preorder at Book Depository
//
Preorder at Booktopia
5. Build up Season by Megan Jacobson
Release Date: 31st July 2017
Synopsis:
Seventeen-year-old Iliad Piper – Ily for short – is named after war and angry at the world. Growing up with a violent father and abused mother, she doesn't know how to do relationships, family or friends. Her love-hate friendship with Max turns into a prank war and she nearly destroys her first true friendship with misfit Mia. She takes off her armour for nobody, until she meets Jared, a local actor and someone who's as complicated as she is.
Add to Goodreads
//
Preorder at Book Depository
//
Preorder at Booktopia
6. Wreck by Fleur Ferris
Release Date: 3rd July 2017
Synopsis:
Amara Bennett is going to be the first journalist to strictly report only good news. Finished with high school, Tamara is ready to say goodbye to her sleepy little town and part-time job at the local paper. O-weeks awaits, which means parties, cute boys and settling into student res with her best friend Relle. Things take an unexpected turn, however, when she arrives home to find her house ransacked and her life in danger. What is this mysterious note? And why does it mean so much to one of Australia's most powerful media moguls? Caught between a bitter rivalry and dangerous family secret, who can Tamara trust? Or should she trust herself?
Add to Goodreads
//
Preorder at Book Depository
//
Preorder at Booktopia
7. Warcross by Marie Lu
Release Date: 12th September 2017
Synopsis:
From #1 New York Times bestselling author Marie Lu—when a game called Warcross takes the world by storm, one girl hacks her way into its dangerous depths.
For the millions who log in every day, Warcross isn't just a game—it's a way of life. The obsession started ten years ago and its fan base now spans the globe, some eager to escape from reality and others hoping to make a profit. Struggling to make ends meet, teenage hacker Emika Chen works as a bounty hunter, tracking down Warcross players who bet on the game illegally. But the bounty-hunting world is a competitive one, and survival has not been easy. To make some quick cash, Emika takes a risk and hacks into the opening game of the international Warcross Championships—only to accidentally glitch herself into the action and become an overnight sensation.
Convinced she's going to be arrested, Emika is shocked when instead she gets a call from the game's creator, the elusive young billionaire Hideo Tanaka, with an irresistible offer. He needs a spy on the inside of this year's tournament in order to uncover a security problem . . . and he wants Emika for the job. With no time to lose, Emika's whisked off to Tokyo and thrust into a world of fame and fortune that she's only dreamed of. But soon her investigation uncovers a sinister plot, with major consequences for the entire Warcross empire.
In this sci-fi thriller, #1 New York Times bestselling author Marie Lu conjures an immersive, exhilarating world where choosing who to trust may be the biggest gamble of all.
Add to Goodreads
//
Preorder at Book Depository
//
Preorder at Booktopia
Hope you enjoy my list of books! What books can't you wait to get your hot little hands on! Leave a comment below!