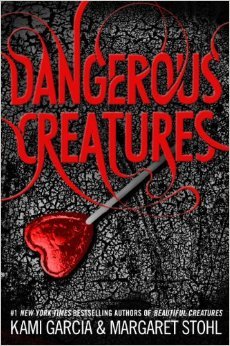 Title:
Dangerous Creatures
Author:
Kami Garcia and Margaret Stohl
Genre:
Young Adult/Urban Fantasy/Paranormal
Publisher:
Penguin
Publication Date:
20th May 2014
ISBN:
9780141354101
Stand Alone/Series:
Dangerous Creatures #1
Pages:
Enter
First Lines:
There are only two kinds of Mortals in the backwater town of Gatlin, South Carolina - the stupid and the stuck. At least, that's what they say.
Synopsis:

Ridley Duchannes is nobody's heroine.
She's a dark Caster, a Siren. She can make you do anything. She can't be trusted. By Anyone.
But that hasn't stopped her boyfriend Link from falling in love with her - or taking her with him to follow his rock-star dream.
New York City is a dangerous place for both Casters and Mortals, and soon Ridley realizes that Link's bandmates are keeping secrets.
Determined to uncover the truth, what she finds out is worse than she could have imagined.
Link has a price on his head that no Caster or Mortal can ever pay.
With lives on the line, what's a Siren to do?
My Thoughts:
I absolutely loved the Caster Chronicles and hadn't realized that there was going to be a spin off with Ridley and Link until Penguin sent me a package in the mail.
I was a bit skeptical to begin with because I got to about page 15 and wasn't really into this as much as I'd hoped to be. I just wasn't really warming up to Ridley like I had with the characters of Beautiful Creatures. I guess I was hoping to find that bit of Lena within her and I couldn't help feeling a little disappointed.
But I'm glad I kept reading because once I hit page 24 and then to 112, the tables had turned and I thought wow! Ridley, I could get used to this. The run in with Link's mother before they leave had me thinking I could get used to Ridley's attitude, but what really did it for me was the part with Ridley in the Hair Salon. I'd been hooked.
Ridley didn't really stand out for me in the Caster Chronicles but I'm happy that she's been given her own series with Link. She's attitude, doesn't deal with anyone's crap and surprisingly deep, deep, down there is a soft side to her. Paired with Link, it makes for an interesting duo. Link isn't the brightest spark, but he's genuine, head over for heels for Ridley, and terrible band member with his lyrics.
If you've read the Caster Chronicles, you'll more than likely enjoy this spin off series! I recommend to read the Caster Chronicles first, it will give you a better understanding of the family but it is not necessary!
Fave Lines:
When it came to relationships, the truth never set anyone free. The Truth only set things on fire. - page 95.
Book received from:
Penguin Australia