We have 1 print copy and 2 e-book copies of Whisper of a Witch and 1 print copy and 2 e-book copies of Conviction of a Witch (The second book in the series) to giveaway thanks to the awesome Suza Kates!!
Synopsis
Shauni Miller has no idea why her life is changing, but she must answer when an unknown force summons her to a mystical island. She also harbors a secret, one that has the potential to alter her life forever.
Dr. Michael Black helps Shauni in her time of need, but sees more in the raven-haired temptress than she ever meant to reveal. He knows she's hiding something, but then, so is he.
Only the fates know what role they will play in a centuries-old prophecy. Or if one of them has to die.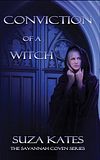 While I don't have details of Conviction of a Witch, I can only assume it will be as great as the first one in the Savannah Coven series.
All you have to do is answer ONE question.
Which is your favourite witch/wizard of all time? You can also add why but not necessary.
Contest closes 6th March