Hey everyone! It's Week 1 Check in of Once Upon a Time Project (Giveaway 2) and I'm interested in hearing how everyone is going?
This week I'd love to hear where you were when your best ideas have hit, what your typical habits are for writing, and any other quirks and tid bits there may be.
If your having trouble coming up with ideas or The Muse has gone on a temporary holiday, the web has got some fantastic writing prompts to get you started.
Dragon Writing Prompts
is a good site to check out. Another is
Writing Forward
which has some creative tips and exercises and grammar help.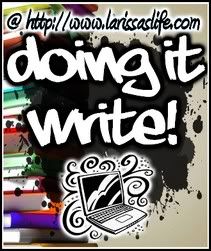 AND if you haven't been over to
Welcome to Larissa's Bookish Life
. There is a very cool Creative writing contest where you can take a book which had a disappointing ending and re-write it!! Stella Price, Angie Frazier, Dakota Cassida and Larissa Lone are the Judges, so give it a try.
So that's all from me for now. (sorry this post is late, total malfunction with the scheduling) I look forward to your comments